Most Durable Tablet X-Tab 9000
Durable Tablet X-Tab 9000
X-Tab 9000 is more than a tablet – it is made for an extreme use and for extraordinary user experience.
Travelling and finding new adventures are much easier with rugged X-Tab 9000. It is created to live through a drop from a meter or to stay a meter under water.
The X-Tab 9000 offers a pre-installed Offroad mapping, GPS trails, OpeStreetMaps and Sea Maps with a high tech Marine Navigator for easy and precise routing. X-Tab 9000 has a front 2.0 MP camera and 8.0 MP camera on the back.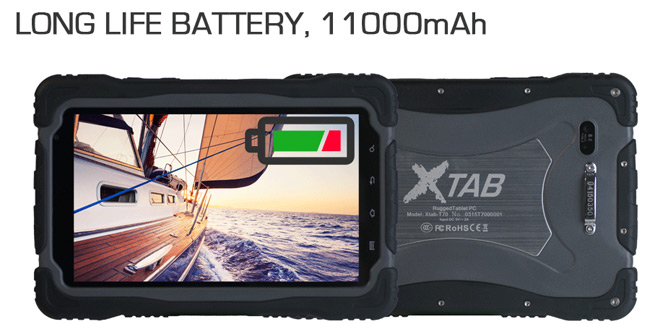 Rugged tablet with waterproof tablet features
The X-Tab 9000 extremely tough tablet and uses both Wi-Fi and 3G data networks for accessing the Internet. This durable and robust tablet has an 8 GB SSD and extended memory storage. The X-tab is made for extreme conditions, it has a working temp of -20 to 80c with a 7inch sun light readable IPS screen and 11000mAh lithium Battery for maximum performance and reliability.
Don't miss to navigate your destinations using the smart compass