Durable smartphone X-Tel 9000 4G
Durable Extreme smartphone X-Tel 9000 4G
The rugged X-Tel 9000 is special type of waterproof smartphone, which is completely shockproof and has a protective and splash-protected screen of Gorilla Glass 2.0. Engineered to be easy to use, compact and very durable.
Picture the great moments
When you capture the precious moments in life with your 13.0 Mega Pixel camera you can view them on the elegant Gorilla Glass 2 which has an Full HD (720x1080p) screen This 5.0 inch Gorilla Glass display, with full HD (720x1080p) had been drop tested for 7500 times, so if you are not sure if such elegant screen can be so strong, now you will have no doubts!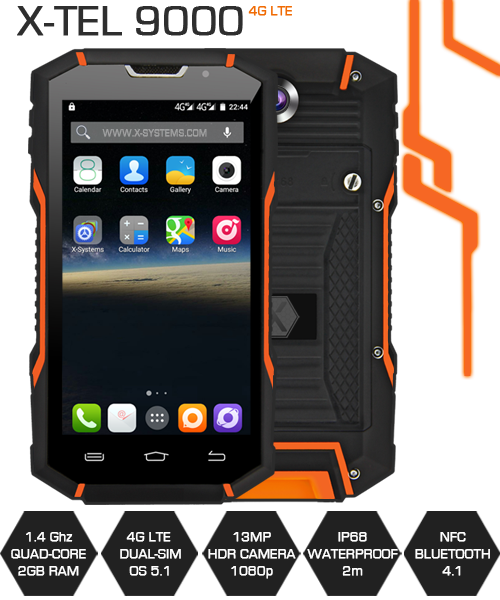 Multimedia
The X-Tel 9000 has a dictation application. There is also a built in FM radio and you need to use the headphones as an antenna. The XSYSTEMS X-Tel 9000 has a built-in 8-megapixel camera, where you can also record video. And if that is not enough, you can also use the second 2-megapixel camera for video calling.
In short this durable, waterproof smartphone comes with the latest Android 4.4.2 software, 3600mAh lithium battery, which gives you working time of 8 hours and a standby time of 20 days. It is useable in between -20 / 80 C, with a LTE 4G Dual-SIM card.
X-Tel 9000 waterproof smartphone is the best device agriculture, industrial, security, construction or outdoor professional could own. Whatever situation you're in, these phones won't suffer under it.